Celebrate Your Wedding Day With A Beautiful Smile!
There are few things more exciting than planning your wedding. Whether you're having a large celebration or a small gathering, you want everything to go perfectly and to look your best on this special day.
The Invisalign Advantage
Invisalign offers brides, grooms, and anyone celebrating a milestone event or happy occasion the confidence of smiling for the cameras, their families, and friends with complete confidence and ease.
As the virtually invisible choice in care, Invisalign treatment doesn't interfere with your wedding plans, photographs, special plans, or busy schedule. It's the clear choice for a camera-ready, confidence boosting, crowd pleasing, well-aligned, and healthy smile!
There's no time like the present.
If you're planning on getting engaged or have just said "yes" to the dress, consider this time to align your smile. While every smile is different and treatment time depends on the exact requirements of your case, the sooner you begin care, the better.
Because your aligners are removable, you can take them out for any occasions or photographs happening well before your big day. And, even if you only started treatment a short time before your wedding and still have some minor alignment remaining, our office provides the care you need to go aligner-free on your big day. We'll also perform a tooth whitening procedure to give you the "picture-perfect" smile.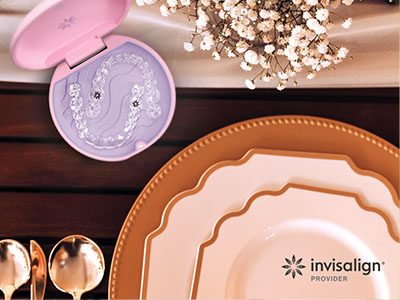 Our Location
9900 West Parmer Lane
Suite #A-205

Austin
,
TX
78717
(512) 388-1833
Follow Us